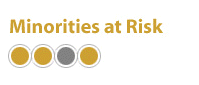 Assessment for Shi'is in Bahrain
Bahrain Facts
Area:
665 sq. km.
Capital:
Manama
Total Population:
620,000 (source: unknown, 1998, est.)
Risk Assessment | Analytic Summary | References

/tr>
Risk Assessment
The Shi'a of Bahrain remain a minority at risk, but there are grounds for cautious optimism. Although Bahrain is by no means ready to adopt full-scale democracy, the Amir has pushed for economic and political reforms, and has worked to improve relations with the Shi'a community.
A recent history of protests and economic and political discrimination continue to put the group at risk for future protest. For the time being, most Shi'a still belong to the middle or lower classes of Bahraini society and do not possess the ability to change their form of government. Yet, given the reforms since 2000, there is significant room for compromise on both sides. The opposition is mostly moderate, voicing their concerns in peaceful protests and criticism, though fairly guarded, in the press. Despite a lack of recent rebellious activity, future militant activity, although unlikely, cannot be dismissed, as they have one of the risk factors: recent government repression.
Analytic Summary
The Shi'a Muslims of Bahrain are a disadvantaged majority, widely dispersed (GROUPCON = 0) within the 35 islands in the Persian Gulf that make up the state. They share other Bahrainis' ethnic Arab background (RACE = 0) and Arabic language (LANG = 0), but they have distinct religious beliefs from the minority Sunni Muslims and the Sunni royalty that rules the country (RELIGS1 = 6). The major division between Bahrain's Sunni and Shi'a faiths derives from a dispute dating back to the 7th century over who were the true successors to Mohammed, Islam's original and primary prophet. The Shi'a follow Ali, Mohammed's son-in-law.
Historically, Bahrain has fallen under Portuguese, Persian, and British rule. British involvement in the 19th century consisted of a series of mutually beneficial treaties which allowed the al-Khalifa ruling family to maintain effective control over the islands while the British provided security to the state in exchange for security of British merchant ships passing through the Gulf. It gained its independence in 1971. The Amir briefly experimented with constitutional and representative rule in 1973 when he established the Constitutional and National assemblies. Each assembly was made up of elected and appointed members. The constitution adopted in December 1973 stipulated that the Amir could dissolve the National Assembly at his discretion, after which new elections were to take place. After little more than a year of operation, the Assembly was dissolved by Sheik Isa ibn Salman who felt that the public debates, particularly over a new state security decree, eroded the monarchy's legitimacy. Though the National Assembly lacked the authority to prevent the government from enacting legislation that assembly members opposed, it supported a move to require the decree to be ratified by the Assembly before its implementation. In August 1975 after legislators returned from summer break, the Sheikh dissolved the National Assembly, and a year later announced that it would remain dissolved indefinitely. This decision led to unrest in Bahrain and to increased activism against the regime over the following two decades.
During the 1980s, opposition to the regime took the form of small-scale acts of sabotage carried out by small, but well-organized, groups (Rabi and Kostiner, 1999). After the death of ruler Sheikh Isa bin Sulman al-Khalifa in March 1999, and after Shi'a activists provoked unrest sporadically from 1994-99 (demanding the return of an elected National Assembly and an end to unemployment), the opposition declared its willingness to cease its protests out of respect for the former leader. This more conciliatory approach reduced tensions and although smaller rallies continued in recent years (PROT02-03, 05 = 3; REB099-05 = 0), the new leader, Sheikh Hamad, adopted a new constitution in late December 2000. In February 2001, voters approved a referendum on a new National Action Charter, which included legislative changes such as a reformed constitution calling for a partially elected bicameral legislature and a constitutional monarchy). Also in February 2001, the Amir annulled the 1974 State Security Act, which had been used to conduct arbitrary arrest, prolonged detention, and forced exile. In the same month, the Amir released all political prisoners and almost all exiled persons were allowed to return with citizenship rights (most were Shi'a). The State Security Court, which held secret trials, was also abolished. The country officially became a constitutional monarchy in 2002, and in October more than half of the eligible voters participated in the first elections since 1973, electing 40 members of the Council of Deputies (the lower house of the national assembly). The new body included a dozen Shi'a MPs, though this is not close to a proportional representation of their group population.
Despite these democratic changes, however, many obstacles remain and the Shi'a still live in a society where they are second-class citizens. As a majority group ruled by a Sunni minority, the Shi'a community in Bahrain suffers a moderate level of political, economic, and cultural discrimination (POLDIS01-06 = 1; ECDIS06 = 3). Although the Shiite community in Bahrain has faced little repression in recent years (only restrained force at protests, REPNVIOL04 = 4; REPVIOL06 = 3), the ruling Sunni family remains apprehensive of its position as a numerical minority group with power over a majority opposition group. The government has kept tight control over political activities, as political parties are still illegal, although the reforms of the past few years have made it easier for groups to organize. Several organizations representing Shi'a interests have sprung up, such as the Islamic Enlightenment Society in 2001 (which had been shut down in 1984) and the Islamic Action Association, also known as the Islamic Action Society (GOJPA04-06 = 2). There is tight control over the media, though notably less than in the 1990s. For the most part, public debate of sensitive political topics is taboo. There are officially limits to freedom of expression, given that the law stipulates everyone has free speech but that opinion must not "slight the Islamic faith, the unity of the people, the person of the king, or create divisions or religious differences," (Agence France Presse, May 2, 2003), thus making individuals and journalists liable to prosecution for offences such as insulting the king. This makes it particularly difficult for Shi'a to criticize policies, and government- and self-censorship is practiced. Shi'a continue to fight for equal rights, an end to unfair policies, and greater participation in both local and central decision-making (POLGR06 = 1).
Shi'a also face discrimination in employment, although there has been some improvement in recent years in this sector, such as the hiring of a few Shi'a professors. In general, however, the Sunni Muslim minority enjoys a favored status for employment in high government positions as well as in the lower ranks of the civil service. While Shi'a citizens are now allowed to hold posts in the security forces, their positions are generally insignificant. Social services in most Shi'a neighborhoods are inferior to those in Sunni ones. Also, Shi'a citizens face higher unemployment and tend to be employed in less skilled jobs in the private sector. As a result, many Shi'a citizens, while acknowledging the positive steps that have been taken since 2000, view many of the reforms as cosmetic and demand the government do more to significantly improve their economic status (ECGR06 = 1).
For the most part, Shi'a are free to practice their religion, although the government subjects both Sunni and Shi'a Muslims to control and monitoring (CULPO100-06 = 1) by requiring all religious groups to obtain a permit from the Ministry of Justice and Islamic Affairs. In 2006, there were no reports of religious groups being denied a permit. In the past, the government occasionally closed mosques and ma'tams for allowing political demonstrations to take place on or near their premises, but there were no recently reported closures. There are other signs of improvement for Shi'a cultural expression in Bahraini society. In 2003, a school emphasizing a Shi'a curriculum was established for the first time. Also, the main Shi'a religious festival (Ashura) in the past had been turned into a political protest, but the festival in recent years has had fewer political overtones.
References
Agence France Presse, May 2, 2003, Bahraini Shiite Group Calls On Manama To Lift Press Restrictions.
Amnesty.org, Various reports, 2001-2003.
Helem Chapin Metz, ed. Persian Gulf States: A Country Study. Washington: GPO for the Library of Congress, 1993.
Lexis-Nexis. Various news reports. 1990-2006.
Open Media Research Institute. Daily Reports.
US State Department. Country Reports on Human Rights Practices: Bahrain, 2001-2006.