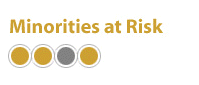 Assessment for Other Indigenous Peoples in Mexico
Mexico Facts
Area:
1,972,550 sq. km.
Capital:
Mexico City
Total Population:
84,486,000 (source: UN, 1995, est.)
Risk Assessment | Analytic Summary | References

/tr>
Risk Assessment
The non-Mayan and non-Zapotec indigenous groups in Mexico demonstrate three factors that increase the likelihood of future rebellion: persistent protest in the past decade; territorial concentration; and increased indigenous solidarity in support of the Zapatistas. However, four factors support the strong likelihood that rebellion will be avoided: increased democratic stability under recent administrations; greater commitments of recent administrations to meet indigenous demands, backed by action; widespread public and ideological support of Mexican indigenous groups by numerous foreign governments and transnational NGOs; and lack of serious armed conflicts in neighboring countries.
The prospects for peace in indigenous regions are good, primarily due to President Fox's decisive action upon election to scale back military operations in indigenous regions and his commitment to addressing the grievances of indigenous groups. Despite opposition to the Indian rights bill passed in April 2001, there is no indication that opposition will turn violent. Though the presence of pro-PRI(Institutional Revolutionary Party) paramilitary groups in indigenous regions pose a continued threat, such groups are likely to face greater constraints with the PRI unseated in the presidency and in key gubernatorial offices.
Analytic Summary
Other Indigenous groups in Mexico include the Nahuas, Mixtecos, Otomis, Totonacos, Mazatecos, Mazahua, Tarascos, Huicholes, Coras, Tepehuanes, Cuicatecos, Huaves, Chatinos, Triquies, Amuzgos, Papagos, Pimas, Huastecos, Seris, Tarahumaras, Popolucas, Chinantecos and Yaquis. The Nahuas, Mexico's largest "Other Indigenous" group, is located primarily in Morelos and Tamaulipas and is part of larger indigenous communities in Coahuila, Colima and Guanajuato (GROUPCON = 0). Most other indigenous groups are located primarily in the southeastern part of the country, including the states of Chiapas, Guerrero, Hidalgo, Mexico, Oaxaca, Puebla, San Luis Potosi, Veracruz and Yucatan. They are distinguished by various indigenous languages (LANG = 1), including Nahuatl, which is spoken by 23 percent of Mexico's indigenous population. They traditionally controlled native lands through the ejido communal land system until government efforts to privatize Indian lands, beginning with agrarian reforms in the 1940s and continuing through the enactment of NAFTA, began to subject indigenous populations to increasing land and territory losses.
Mexico's Other Indigenous experience demographic stress in the form of poor health conditions, periodic natural disasters and substantial migration. Political activity is restricted due to social exclusion (POLDIS06 = 3). Other Indigenous groups face economic discrimination (ECDIS06 = 3), primarily in the form of social exclusion and are also economically disadvantaged due to the privatization and environmental degradation of communal lands and low state infrastructure investment.
Other Indigenous demands and grievances include regional autonomy and self-determination for indigenous communities, major investments in social services for indigenous populations, control of elections, anti-discrimination legislation, conservation of natural resources in indigenous regions, opposition to foreign commercial interests in indigenous regions, the demilitarization and removal of paramilitary groups from indigenous regions and promotion of group culture and lifeways (POLGR04-06 = 3; ECGR04-06 = 2; CULGR04-06 = 1). Until late 2002, indigenous speakers faced significant language discrimination in the justice system, where Spanish was used and interpreters were not supplied for non-Spanish speakers. A law passed in mid-December 2002 guaranteed that indigenous language speakers would be provided a bilingual judge.
Mexico's Other Indigenous groups, were represented by the state-sponsored Autonomous Department of Indigenous Affairs beginning in 1940 and, later, through the National Indigenous Institute (INI), the official government agency for indigenous affairs said to coordinate over 3000 indigenous organizations, including the National Union of Indigenist Organizations (UNOI), the National Federation of Indigenist Youth (CNJI), and the Mexican Association of Indigenous Professionals and Intellectuals (AMPII). In 2003, the INI was replaced by the National Commission for the Development of Indigenous Peoples (CDI), designed to take over and better manage all the functions of the old INI. The National Council of Indigenous Peoples (CNPI) formed in 1975 to work with the state on indigenous issues, but later staged protests against state policies. A variety of more locally based organizations also represent indigenous issues (GOJPA04-06 = 2).
After a period of state co-optation under the Cardenas administration (1934-1940), Indigenous groups began to mobilize against the privatization of communal lands, though continued to advance demands through largely government channels and state controlled organizations until the Chiapas rebellion of 1994 precipitated a wave of indigenous protest and rebellion, that continued through the rest of the decade. Numerous protests against and violent clashes with largely PRI-controlled local and state governments were driven by claims of corruption and electoral fraud, state failure to provide promised aid, opposition to the exploitation or sale of communal lands, and expressions of solidarity with the Zapatista rebels (PROT94-00 = 5; REB94-00 = 6). Government efforts to institute meaningful reforms were unsubstantial until the 2000 election of President Vicente Fox, who scaled back the military presence in indigenous regions, to which numerous arrests, killings and disappearances had been attributed, shortly after taking office in December 2000. Fox also submitted and passed legislation through congress, shaped principally by the Zapatista National Liberation Army (EZLN), which although deemed insufficient by the EZLN and other indigenous communities, contained numerous protections of indigenous rights. Opposition to the bill has been peaceful (PROT01 = 5; PROT02 = 4; PROT03 = 3). Protest has continued in recent years under the Felipe Calderon administration (PROT04-06 = 3). There have been no reports of significant conflict between Other Indigenous and other groups (INTERCON01-06 = 0).
References
Comisión Nacional para el Desarrollo de los Pueblos Indígenas. 2000. "Poblacion indigena (1) por lengua (2), porcentaje de hablantes de lengua indigena y ubicacion geografica, Mexico, 2000." http://www.cdi.gob.mx/index.php?id_seccion=660, accessed 4/25/2008
Comisión Nacional para el Desarrollo de los Pueblos Indígenas. 2008. "Regiones indígenas de Mexico." http://www.cdi.gob.mx/regiones/regiones_indigenas_cdi.pdf
Del Popolo, Fabiana, Ana Maria Oyarce, Bruno Ribotta, Jorge Rodriguez. 2007. Indigenous peoples and urban settlements: spatial distribution, internal migration and living conditions. Latin American and Caribbean Demographic Centre. http://www.cepal.org/publicaciones/xml/9/32549/PyD78-final.pdf, accessed 4/25/2008.
McGuire, Thomas R. 1986. Politics and Ethnicity on the Rio Yaqui: Potam Revisited. Tucson: The University of Arizona Press
LexisNexis. Various news reports. 1990-2006.
Panagides, Alexis. 1994. "Mexico. Indigenous People and Poverty in Latin America. Washington, D.C.: The World Bank.
Tresierra, Julio. 1994. "Mexico: Indigenous peoples and the Nation-State." In Donna Lee Van Cott, ed. Indigenous peoples and Democracy in Latin America. New York.: St. Martin's Press.
United Nations Permanent Forum on Indigenous Issues. 2007. "Backgrounder: Urban Indigenous Peoples and Migration: Challenges and Opportunites."
U.S. Department of State. Country Reports on Human Rights Practices: Mexico. 1994-2006.