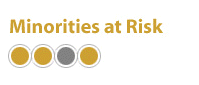 Assessment for Acehnese in Indonesia
Indonesia Facts
Area:
1,919,440 sq. km.
Capital:
Jakarta
Total Population:
212,942,000 (source: U.S. Census Bureau, 1998, est.)
Risk Assessment | Analytic Summary | References

/tr>
Risk Assessment
Aceh province was hard-struck by the tsunami that hit the region in December 2004 and which killed an estimated 160,000 in the province alone. While conflict continued in the aftermath of the tsunami, in August 2005 a Memorandum of Understanding was signed between the government of Indonesia and the Free Aceh Movement (GAM). THE MoU also established the Aceh Monitoring Mission with contributions from the EU and ASEAN. In 2006, GAM disbanded its military wing and formally renounced the use of violence. Concurrently, in August 2006, the Indonesian parliament passed the Law on Governing Aceh (LoGA) in accordance with the autonomy stipulations of the MoU. Provincial elections in December of 2006 permitted local parties to participate and saw the election of a former GAM commander, Irwandi Yusuf, as governor. He was formally installed in February 2007. It remains to be seen if Jakarta will realize its promise of granting full autonomy to Aceh. Economic issues, as well as the presense of Indonesian security personnel in Aceh, are divisive factors of the LoGA that question Jakarta's commitment to Acehnese autonomy. Although the Acehnese possess some factors that encourage rebellion, it is unlikely that rebellion will ensue. The MoU and seminal LoGA legislation is promising for Aceh's autonomy, and its citizens are weary of the violence that wracked the region for almost 30 years. Furthermore, the democratic local elections in December 2006 were a success, and Acehnese parties are now preparing to participate in the national elections in 2009. Even still, unresolved economic issues and Acehnese desire for accountability of past human rights abuses, especially amidst a new democratic climate in the province, make protest a likely tool for Acehnese demands.
Analytic Summary
The Acehnese inhabit the region of Aceh, a province in Indonesia, which is located on Northern Sumatra with the Malaca Strait to the North and the Indian Ocean to the South (GROUPCON = 3). The region had been an independent sultanate for 500 years until the late 19th century (AUTLOST = 1). After the Dutch and Japanese colonial periods, Aceh was incorporated into the Indonesian province of North Sumatra. Since the 1950s rebellions have recurred. In 1953, a rebellion led by All-Aceh Ulama Association (PUSA) leader Daud Beureueh broke out, resisting the central governement's inadequate rule. In 1957, the insurgency ceased after Aceh was granted status as a full province. In 1959, Aceh was given "special region" status with autonomy in customary law, religious and educational affairs. The grievances of the Acehnese grew as Suharto's New Order policy began to tighten its control over the religion, society, and economy of the region since 1969. The Acehnese became antagonistic to the Suharto regime and its advocacy of "unity and nationalism" as "the deep penetration of the New Order into traditional structures and social changes" (POLDIS06 = 1).
Aceh is a province with rich natural resources of fossil fuel, natural gas and timber. However, economic development brought negative impact on the local population due to land appropriation, trans-migration of Javanese, imports of skilled laborers, inflation, etc. The benefits earned from Aceh seldom returned to Aceh, and the Acehnese experienced extensive economic injustice.
Aceh is also distinctive from other parts of Indonesia by its Orthodox Islam. While the Islam in Java is profoundly mingled with Buddhism, Hinduism and Christianity, the Aceh Islam is more orthodox in nature (CUSTOM = 1).
Acehnese grievances traditionally stemmed from political, economic and religious repressions. The group sought independence from the Indonesia Republic since 1976, when the Aceh-Sumatra Liberation Front (ASNLF, later known as Free Aceh Movement, or Gerakan Aceh Merdeka, GAM), led by Hasan M Trio, pronounced the independence of the region. The government frequently responded with violence targeting not only GAM and its supporters but also Acehnese civilians. While the civilians suffered from murder, torture, rape, destruction of houses, and various crimes committed by the military, it is reported that GAM adopted strategies of turning civilians into refugees to obtain sympathy and recognition from the international community. A peace agreement signed in 2000 did little to halt the conflict.
Beginning in spring 2001 and continuing periodically through 2003, the Indonesian government deployed 15-30 thousand troops to Aceh to crush GAM. However, tactics frequently impacted non-GAM Acehnese. These included the rescreening of all Acehnese civil servants, elected officials and police forces for loyalty to the Indonesian state, with Acehnese dismissed based on association with any suspected GAM member or any statements of support for GAM aims (independence from Indonesia). Activists were arrested for making public statements condemning Indonesian actions and calling for independence. Indonesian forces, based on information from informants and migrants, labeled some houses in 2003 with "This is a GAM house," effectively preventing residents from returning. Acehnese were also resettled into camps, allegedly to protect them from GAM forces. Across Aceh, the emergency military command "encouraged" Acehnese to engage in mass loyalty oaths. All residents of Aceh were required to obtain new identity cards, and the process for applying for them also entailed loyalty oaths and screening for any GAM ties. Indonesian forces have not hesitated in employing violence against Acehnese civilians. Many Acehnese civilians were victims of rape, torture and murder (REPGENCIV04-06 = 5). These actions continued despite the granting of special autonomy to Aceh in 2003, which was rejected by large numbers of Acehnese.
In December 2004, Aceh province was hit by a tsunami, resulting in massive destruction and the death of an estimated 160,000 people. While conflict resumed in the aftermath of the tsunami, heightened international attention and pressure led to the signing of a Memorandum of Understanding between the Government of Indonesia and GAM. In 2006, GAM disbanded its military wing and formally renounced the use of violence. Provisions of the MoU include granting widespread autonomy to the province, greater control over the province's natural resources, increased participation in reconstruction efforts, GAM decommissioning, amnesty for GAM fighters, and the establishment of a Truth and Reconciliation Commission. The implementation of the MoU is to be monitored by a Aceh Monitoring Mission with participation from the EU and ASEAN (STATEPOLSUP05-06 = 1). In August 2006, the Indonesian parliament passed the Law on Governing Aceh (LoGA). While full autonomy as stipulated by the MoU has yet to be implemented, Acehnese provincial elections in December 2006 permitted local parties to run and marked a positive step in the implementation of Acehnese autonomy (AUTON206 = 1). Nonetheless, it remains to be seen whether Jakarta will realize its promise of guaranteed autonomy in Aceh.
Since the signing of the MoU, rebellion has not been utilized as a political strategy by Acehnese actors (REB04-05 = 5; REB06 = 0). In recent years, the Acehnese have used protest as a peaceful way to demand full autonomy and retribution for past civil rights abuses (PROT04-05 = 3; PROT06 = 5).
References
Amnesy International. 2/12/2003. "Indonesia: Activist's arrest could undermine Aceh cease-fire." http://web.amnesty.org/library/Index/ENGASA210062003?open&of=ENG-IDN
Amnesty International. 5/19/2003. "Indonesia/Aceh: Safety of civilians must be the priority." http://web.amnesty.org/library/Index/ENGASA210192003?open&of=ENG-IDN
International Crisis Group. 7/23/2003. "Aceh: How Not to Win Hearts and Minds." Indonesia Briefing Paper. http://www.icg.org//library/documents/report_archive/A401059_23072003.pdf
International Crisis Group. 9/9/2008. "Indonesia: Pre-Election Anxieties in Ache." Asia Briefing No. 81. http://www.unhcr.org/cgi-bin/texis/vtx/refworld/rwmain?page=country&docid=48c663722&skip=0&coi=IDN&rid=4562d8cf2&querysi=Aceh&searchin=title&display=10&sort=date.
International Crisis Group. 11/26/2006. "Aceh's Local Elections: The Role of the Free Aceh Movement (GAM)." Asia Briefing No. 57. http://www.crisisgroup.org/home/index.cfm?id=4548&l=1.
Lexis-Nexis. Various news reports. 1990-2006.
Lobe, Jim. 7/2001. "Indonesia: Aceh Arrests Could Portend Increased Polarization, Violence." Foreign Policy in Focus. http://www.fpif.org/commentary/2001/0107aceh_body.html
"Memorandum of Understanding between the Government of the Republic of Indonesia and the Free Aceh Movement." 8/15/2005. http://ue.eu.int/uedocs/cmsUpload/MoU_Aceh.pdf
U.S. Department of State. Country Reports on Human Rights Practices: Indonesia. 2000-2006.