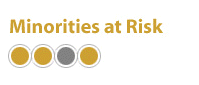 book
Journeys Through Conflict: Narratives and Lessons
by Hayward R. Alker, Ted Robert Gurr, and Kumar Rupesinghe, eds.
Rowman & Littlefield
© 2001
ISBN: 0742510271
462 pages

Includes Hayward R. Alker, Ted Robert Gurr, and Kumar Rupesinghe, "The Challenge of Developing Conflict Early Warning Systems: A Proposal," pp. 3-31, and Ted Robert Gurr and Deepa Khosla, "Domestic and Transnational Strategies for Managing Separatist Conflicts: Four Asian Cases," pp. 240-287. Journeys Through Conflict is the story of the Conflict Early Warning Systems (CEWS) project of the International Social Science Research Council. It relates the history of the project, presents its empirically grounded approach to anticipating violent conflict, and shows how the approach may be extended to other social science research arenas. Phase analysis of conflict life cycles, comparative case studies, reconstructed narratives, and policy lessons are hallmarks of this pathbreaking work by an international, interdisciplinary group of expert conflict analysts. Journeys Through Conflict projects alternate pathways to war and peace by a unique coding, graphing, and computational procedure that takes into account both contested conflict histories and future conflict resolutions.